Rave Reviews by Real Customers!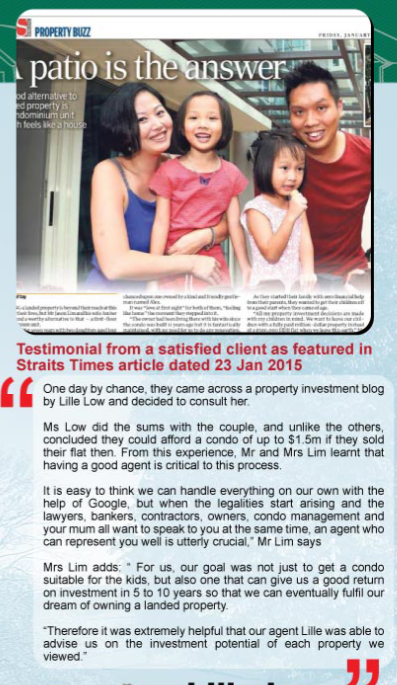 Please see the video testimonial of Jason, who is featured in the above Straits Times Article. Thanks for the fantastic review Jason!
Jason Lim, HDB upgrader
Lille is very efficient in every aspect of her work. First of all, she did very detailed calculations about the buying and selling process. She obviously knows her work very well as she also highlighted and smoothed out a lot of problems that I am not even aware of as a seller. One example of this is the fact that I didn't have to move out to another place first while I renovated my new home. All these is very important as my husband and I are very busy and don't have time to find out about all these new rules like the ABSD, cooling measures etc… Even the banker which she found me is super efficient who follows up very closely with me. I will definitely recommend anyone with real estate needs to call Lille. She is NOT the sort of agents who only help you to sell your property like most other agents. She provides a very comprehensive package of buying and selling without you having to worry about the details!
Elizabeth Soanti, Condo owner and investor
"I am very impressed by the speed and efficiency of Lille in the sale of my unit at Forest Hills Condo. I called her on Friday and she brought a buyer to view my unit on Saturday. We closed the deal with the buyer on Sunday at the price that I wanted. All these is done without even putting a single advertisement as she hasn't even taken photos of my apartment. Almost like a miracle!"
Ken Pua, seller of Forest Hills Condo