This is a question that I have been asked many times.
Most of the sellers whom I meet tell me :
"Haiz, if only I had kept my HDB when I bought the new condo. Back then it was still possible to do so. Don't know why I sold the HDB. Thought I didn't need it anymore and didn't want to hold another property."
The is often followed by a rueful look and a "if-only-I-knew-better-look".
In this article, I would like to offer a solution to this problem that some condo owners are facing.
Contents
Why would a condo seller want to buy a HDB?

How to buy a HDB and still own another condo

What are the benefits of this arrangement
Why would a condo seller want to buy a HDB?
More often than not, the client now finds that there is a lack of space in his current condo-especially with the recurring WFH arrangements and the kids conducting their school activities online.
The ideal situation will be to move to a spacious HDB 4 bedroom 1560sf  Executive Masionette or Apartment apartment while they rent out their condo for passive income-or at least to let it pay for itself until it becomes a fully paid asset some 20 years later.
Sounds sweet? Yes it really is.
2.    How to buy a HDB and still own another condo
I am sorry that the short answer is no.
HDB regulates that the buyer and essential occupiers cannot hold any private property during the first 5 years of buying the HDB.
So it effectively means that if you own a private property of any kind, you will not be able to buy a HDB Resale Flat or apply directly to HDB for a new flat.
It is arguable that the HDB owners have it a bit better than the private property owners because they can still buy a condo after 5 years of MOP(Minimum Occupation Period is 5 years during which you cannot sell the HDB). However they will still incur the 12% ABSD(Additional Buyer's Stamp Duties) when they buy. But hello, at least technically they CAN buy.
That means condo owners cannot buy HDB correct?!
Fear not. There is hope yet!
The below is how I would go around it
So here is the summary of it if you are too lazy to read the whole post 🙂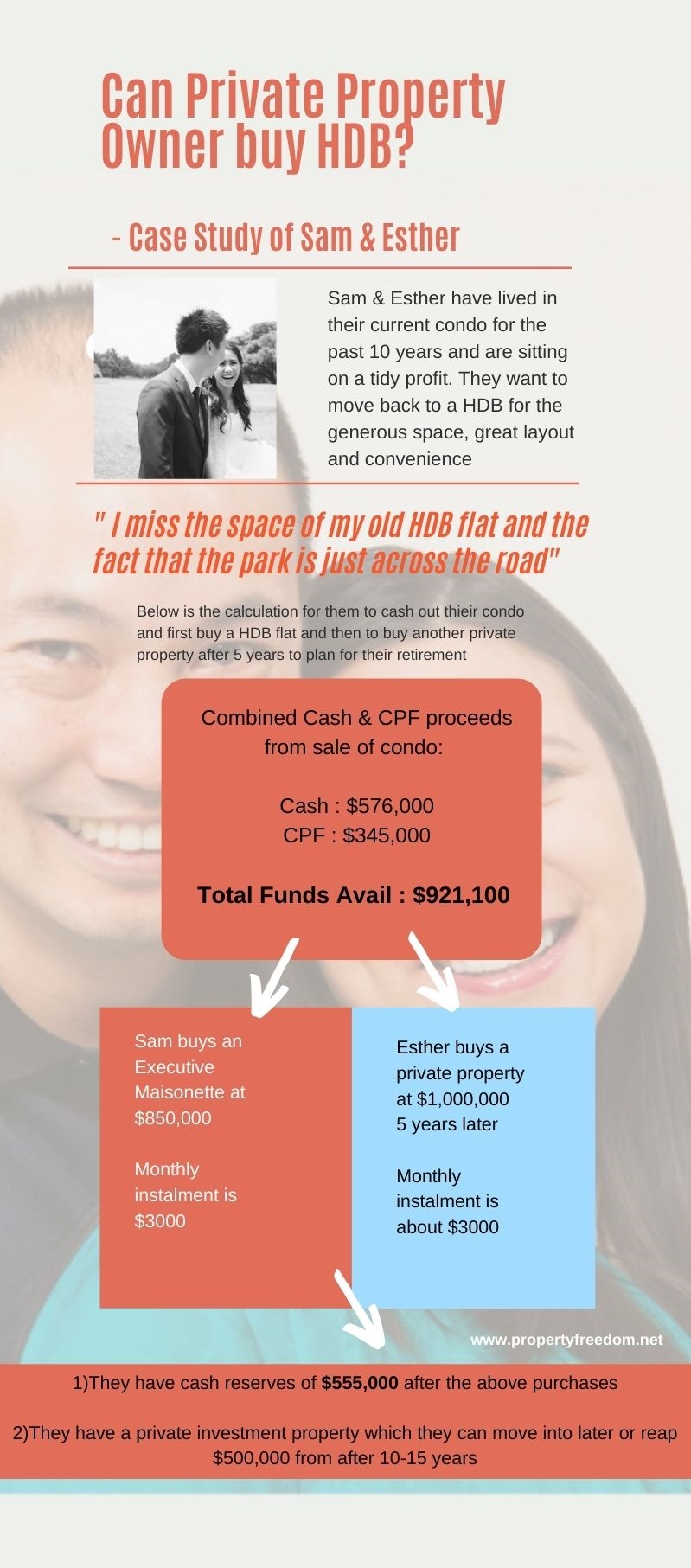 Strategy to own both a HDB flat and a condo
---
Step 1
Sell the condo and cash out.
Step 2
Then buy a resale HDB flat that fits the family needs.
Step 3
But buy the flat only in either the wife's or the husband's name.
But note that the buyer income and age must qualify for taking the entire loan because the burden of taking the loan will rest squarely on the shoulders of the one buyer.
The other spouse will be the essential occupier and not be included as a buyer
Step 4
5 years later after the MOP for the flat is over, the wife can buy a condo in her own name without incurring ABSD.
At the time of writing, this is still allowable and doesn't infringe on HDB's policies. Not sure whether this will change so please do your own due diligence before embarking on this move!
Pros & Cons
Like everything in life, there are always pros and cons of everything we do. So here's the list.
Pros
The advantages of living in a HDB are many and you will find the conveniences especially attractive when you grow older.
You can buy food at eateries nearby and not have to drive. Nearly any kind of goods and services needed for daily living is a skip and hop away.
The same cannot be said for some private properties many of which don't even have covered walkways to the MRT, unlike the surrounding HDB estates.
I have lived in condos, landed and HDBs before and my favourite is still the good old HDB. I love it for the above reasons.
Also for trivial reasons like the fact that I hang my laundry out into the sun when I want to- a luxury that condos can ill afford.
Cons
You would have to wait for 5 years to buy the private property but of course you can always buy a 5 year annuity plan to make sure that your money doesn't sit idle.
The amount of loan you can take for the private property will be lesser as you've grown older by 5 years and couldn't borrow as much money as you could have done 5 years ago.
At the end of the day, there's no one plan fits all. Weigh the pros and cons carefully and listen to what your heart tells you.
Case Study of Sam & Esther
This is the case study of how Sam and Esther will execute their plan.
Sam and Esther are both 45 and 40 and their salaries is $8000 and $6000 respectively.
After selling their condo at Hougang area, they will have the follow funds available to them
They have always been fascinated by Executive Maisonettes and would like to live near the Lor Ah Soo area because that's where most of their family is.
When they sell off their condo unit, they will have about $921,000 coming back to them in both CPF & cash.
They will be able to buy a Executive Masionette under Sam's sole name and a condo in Esther's sole name 5 years later
They have their eye on a $1m property with 2 bedrooms.
They can move to into this condo while they rent out the EM, or the reverse.
Everyone's preferences are different but no worries, they will have a few options to choose from!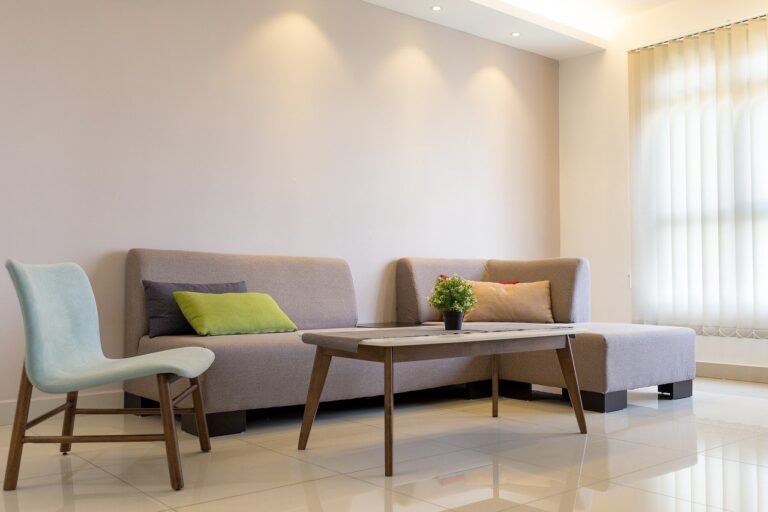 3.   What are the benefits of this arrangement
So there you have it, they have a big executive maisonette to live in now with their 2 children & will still own a private property which will pay for itself by way of rental and then turn an asset which will give them cash amounting to $750,000(including downpayment) in about 10 years or so.
Ask a trusted financial planner who can show you the funds you can invest in to yield you a stable monthly income of a few thousand dollars every month- not bad at all for a retired couple.
If the children move out of the EM, Sam and Esther can also easily rent out the rooms upstairs for $2400(in today's market) and occupy the whole downstairs which is as good as a 3 room flat or self contained 1 bedroom apartment with living, dining and a full kitchen.
So if you sitting on good profits in your condo now, this is a feasible plan for retirement . It will
a)give you the space that you and your family need now
b)Take profits from your current condo which price may remain stagnant
c)You can still own another property which you can cash out from