Dear Trellis Tower Owners,
Congratulations on owning one of the most prestigous Freehold prime condos in the central of Singapore.
Are you pondering hard about these questions?
1)What is my next best move? Condo? Landed? HDB? 
Which type of property and location is best according to your needs?
2)How much is my cash proceeds if I were to sell my property?
3) How much loan can you take based on the latest MAS regulations?
4) Is there a way not to pay for Additional Buyers Stamp Duties (ABSD) if I buy another property?
4) How to sell my home at the best price?
5) How do I sell and buy with perfect ease and no hassle or problems like not having a home to stay in?
Let us give you answers to all your questions about the property market!
Call Lille Low at  
9022-8919
  for all your upgrading options now!
How Often Do You Hear Yourself Saying: "I want to upgrade and also buy another property to rent out, but I don't know how…"
You may not know this but you have you a host of choices to powerfully improve your quality of life by
1) upgrading to a bigger home,
2)buying one more property even if you already own a few properties
3)relocate to another location nearer to your loved ones
My name is Lille Low and I've been a property agent for 20 years and helped countless buyers and sellers find their dream properties. Not only that, I have also managed to get other's peoples money to give me a FREE property which I rent out while owning another apartment at the Marina Bay area.
Jason & Amber (as featured below in The Straits Times) approached me and I helped them upgrade to their dream home even when lots of other real estate agents tell them it's impossible to do so! You can read about their journey at the end of this page.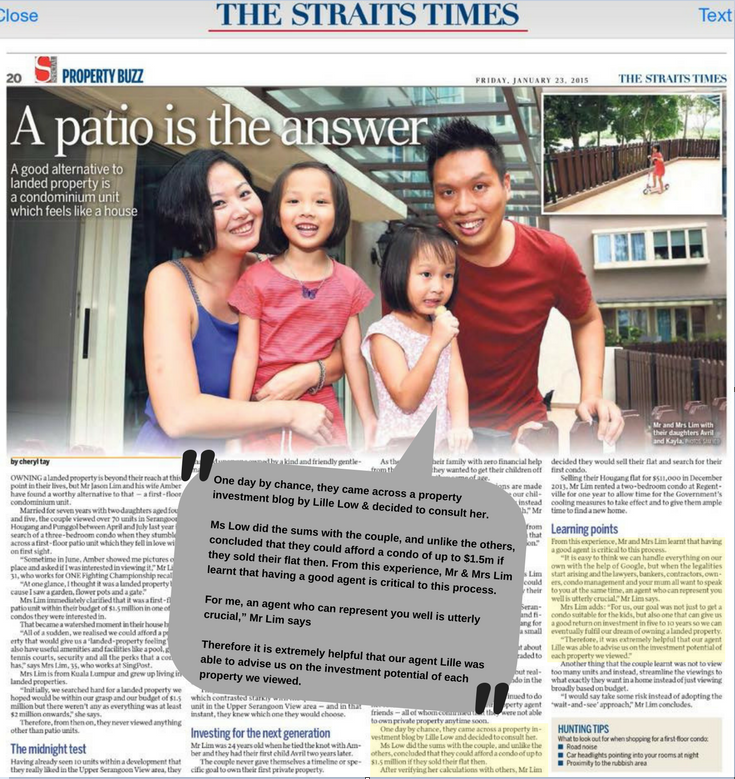 About 8 years ago I was wondering what to do with my property. My HDB has just fulfilled 5 year MOP and I was confused about my next step. Should I upgrade to another bigger place or better location?
I struggled with not wanting to take on more risk but also knew that if I don't start, I would be missing out on riding on the property wave and would never start. I had many burning questions for which I have no answers!
Can I even afford to buy another property?

Should I 

wait for the market to tank

 further before I buy?

How can I reach the fullest potential without taking  

unnecessary risks

?

What happens if I suddenly lose my job?

Can I rent out my HDB flat if I have one?

Can I use all the CPF in my ordinary account? What happens to all the accrued interest?

 How much cash and CPF is needed if I were to buy another property?

What is the 

best thing to do in my situation

?

What can I get out of property investing?
I Almost Stopped All thoughts of investing in properties!
I remember when my HDB flat just hit MOP…I was frustrated every day because I remember researching on the internet furiously only to find scraps of piecemeal and incomplete information which led me nowhere…

I googled on things like:
"What is a good property investnment"
"HDB or condo"
"Options after flat reach 5-year MOP"
What are the properties with highest rental yields (How important are rental yields and how do they add money to my pocket anyway?!)
The internet is filled with general info like the transacted prices of different condos but I needed to know more like:
What needs to happen before I can make $500,000 in property?
What are the different scenarios I have to consider if prices drop by 50%
What if interest rate goes up by 2%
But wait a minute, how do these relate to me? How do I connect the dots of all these to my actual situation?
And after doing all these research I was more confused than ever…
Property investment was like a huge forest that I was getting lost in with no hope of getting out.
I went to some guru talks and they are talking about owning multiple properties while some touted buying foreign properties.
All I wanted was to be able to invest in a low risk and let my returns steadily grow throughout the years without taking any crazy or wild risk.
As a matter of fact…
I had almost talked to everyone whom I think knows a bit about property investment. However they may not be the most ideal people to talk to because most of them have not invested in property before…and probably don't know anything more than me…
To Make Things Worse My Friends and Relatives Mocked Me for Wanting to Upgrade and Told Me to Simply Stay Put…
Why must buy 2 properties?
What happens if the economy crashes and you can't pay the instalment?
Just be happy with what you have la…
I was not satisfied with this answer of just staying put.
What about that client who retired early and rented out his condo and lived at the HDB?
You mean there are really people who can live off rental income without having to work? This idea intrigued me and I swore to learn everything about it
The chilling idea of having to work until I am 70 scares me too…what is it that property investors know that I don't?
You know what I'm talking about?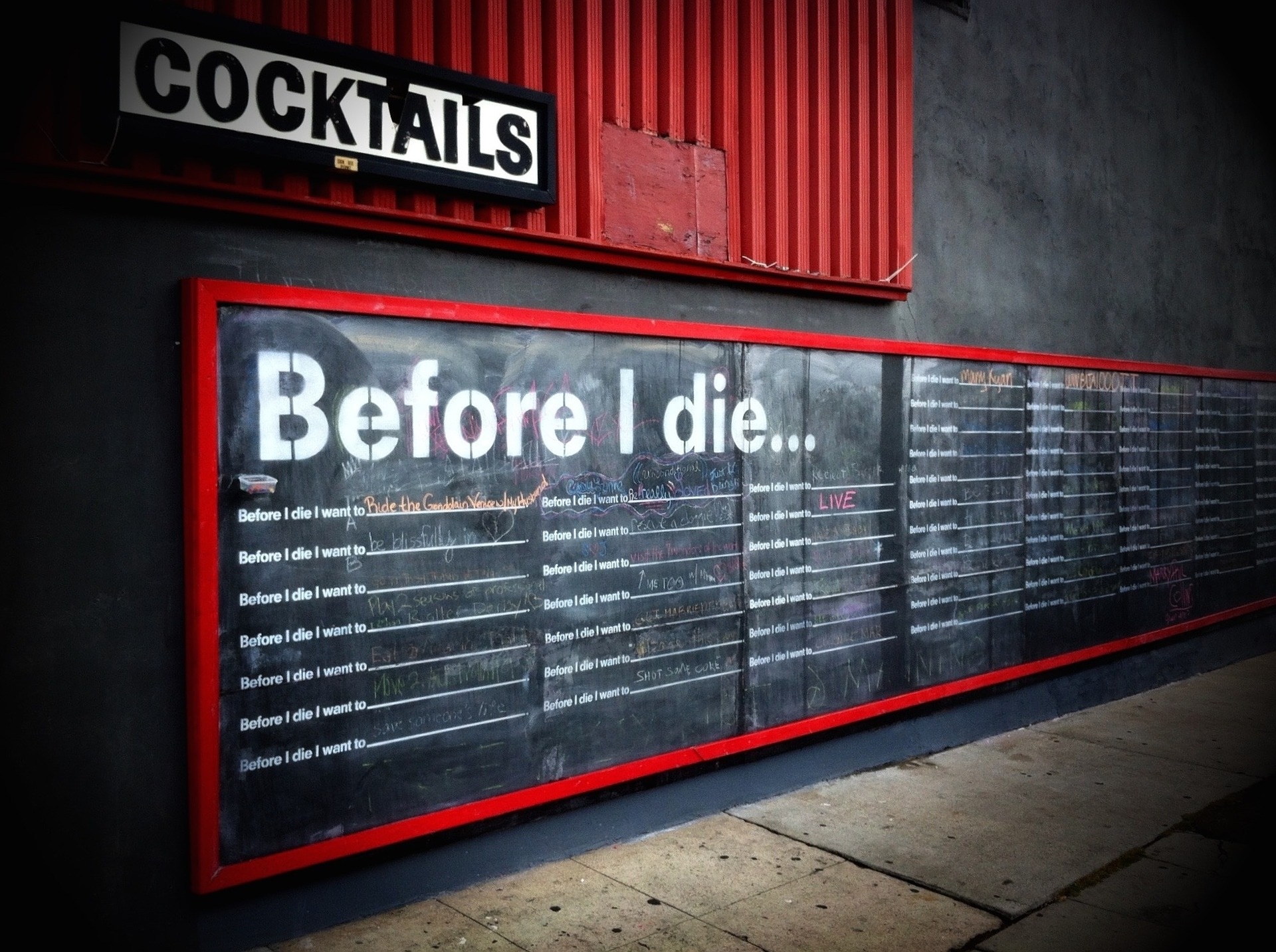 In the end, all I really wanted was…
To Buy A Property Which Will Steadily Grow in Price So That I can Have Capital Appreciation for needs like Education
To Have More Time And Eventually A Source of Passive Income
To Leave A Valuable Property To Take Care of my Loved Ones When I Go
To Have Rental Income When I Grow Old and Unable to Earn as Much As I Do Now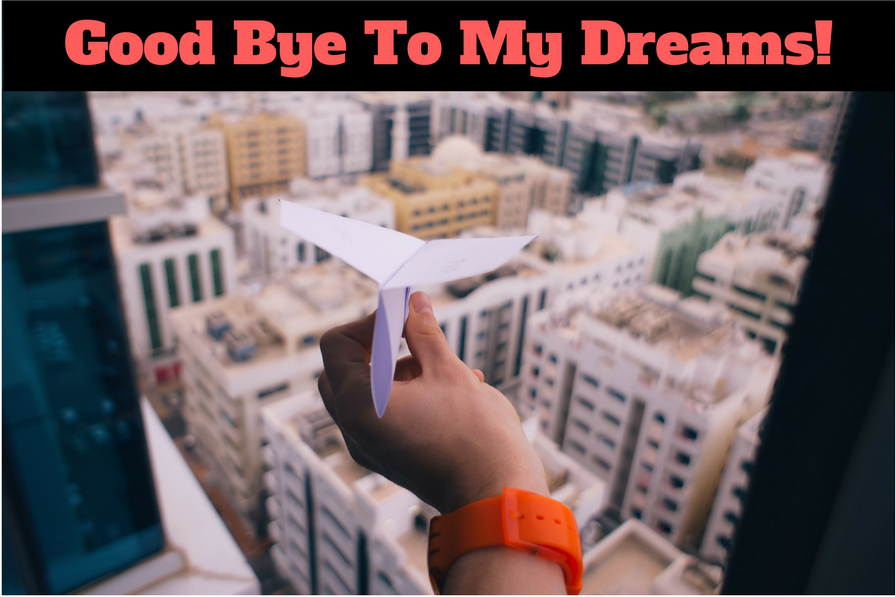 I was on the verge of giving up and calling it quits!
I kept searching for answers but I really can't figure out this property investment thingy on my own….
And if it wasn't for a seasoned property investor whom I happen to chat with about renting his property, I'm pretty sure I would have.
What I Discovered That Night SHOCKED Me
 I discovered a completely new world which I felt was being deliberately kept from me.
My client, let's call him Mr Han, was a ordinary 9 to 5 worker who owns a few properties apart from the property he lives in. I bombarded him with all my questions about how to invest in properties and he plainly told me:
The faster you get on the property game, the better cos you will see the returns faster.
But why I asked. Shouldn't I wait for the property market to tank first?
TO my surprise, he switched on his worn laptop which has seen better days and pulled out a spreadsheet. I could see exactly why he said that because even if he were to buy a property today, and sell it at exact the same price 10 years later, he would still make a couple of hundred thousands!!!
He also shared with me his checklist whenever he carefully hand picks what property to buy:
How to identify a good buy? I mean the kind of properties that will grow steadily in value over the years so that you can grow your hard-earned into a healthy retirement nest egg.
Should we always go for only Freehold? What about 99 years?
Over the years I have blended Mr Han's advice with some observations of my own. But bear in mind what I can share with you is my own personal journey in property investment. This is based on experience which is a blend of art and science.
So if you would like:
Have a clear picture and 

detailed plan

 in your mind
 
Know what kind of property you should buy

 

to fulfill the different types of goals that you may have. It can be for passive income or for capital appreciation. Either for just upgrading or buying an extra property for investment. All these planned conservatively without taking any crazy risks or using questionable tactics.
 
Feel surefooted and assured

 

that your next move is the right step towards achieving property investment goals in a low-risk and safe manner with every risk being assessed
 
No more burning your precious weekends and spare time reading newspapers, researching on past trends, population, future MRT lines and their impact on surrounding properties etc and still not knowing clearly what to do
Do a 

smooth transition

 from selling to moving into your dream home without any hassles and headaches
Sell your property using the latest facebook strategies which has doubled and in some cases tripled the number of viewers
If you would like the answers to all your burning questions and clear your doubts once and for all, please schedule a one on one meeting by filling up this form
or
Call Lille Low at 

9022-8919

 for a custom-made solution to your property dilemma
---
Testimonials



From Mr  & Mrs Jason Lim, as featured in The Straits Times on 23 Jan 2015
"One day by chance, they came across a property investment blog by Lille Low & decided to consult her.
 Ms Low did the sums with the couple, and unlike the others, concluded that they could afford a condo of up to $1.5m if they sold their flat then. From this experience, Mr & Mrs Lim learnt that having a good agent is critical to this process.
It is easy to think we can handle everything on our own with the help of Google, but when the legalities start arising and the lawyers, bankers, contractors, owners, condo management and your mum all want to speak to you at the same time, an agent who can represent you well is utterly crucial," Mr Lim says
 Mrs Lim adds:" For us, our goal was not just to get a condo suitable for our kids, but also one that can give us a good return on investment in 5 to 10 years so that we can eventually fulfil our dream of owning a landed property.
 Therefore it is extremely helpful that our agent Lille was able to advise us on the investment potential of each property we viewed." 
---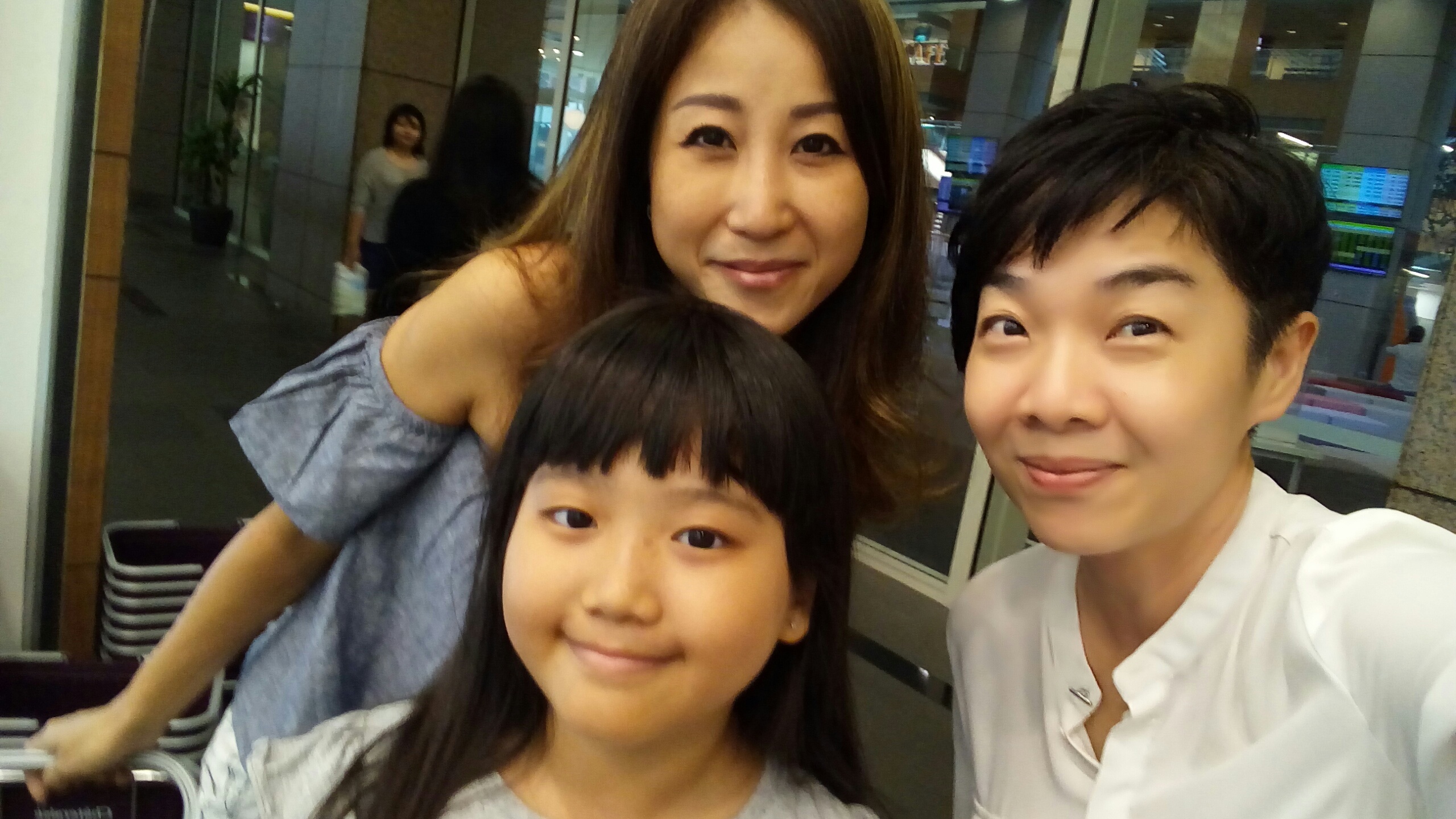 "I began researching online for the solution to my upgrading wants but it took a long time and I had only very piece meal information. I am glad I found Lille who connected all the dots for me and answered all my queries. She also helped me sell my Exec Maisonette when I couldn't find a buyer for the last 6 months!"
Ms Joey Lam (HDB upgrader to private property)
---
"Lille has opened my eyes to the many possibilities of making my money work harder for me and has cleared my doubts on many aspects of the property market. Their valuable insight and experience has been priceless in helping me make the right decisions. Talking to Lille has saved me months of research and costly unnecessary mistakes."
Patricia Chow, owner of a freehold apartment at Balestier Rd
---
"Lille is very efficient and has rented out my property to a corporate tenant  quickly and on very good terms terms. She has also shown me where  the undervalued properties are."     
                           Clara Tang, business owner
---
" We are very confused about all the rules and regulations regarding the property market but Lille worked out all our options and we now have a clear action plan about how to leverage on our existing property to own more than 1 property."
                  Vilash & Rena, Owner of HDB flat
© 2017 propertyfreedom.net